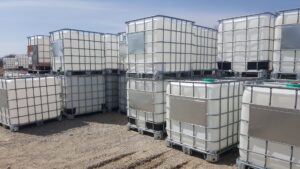 The composite IBCs system market size is projected to be valued at US$ 7,990.7 million in 2023 and is expected to rise to US$ 12,648.47 million by 2033. The sales of composite IBC systems are expected to capture a significant CAGR of 4.7% during the forecast period.
The composite intermediate bulk containers (IBC) system market is a rapidly growing and essential segment within the packaging industry. Composite IBCs are innovative and versatile containers designed to transport and store liquids, chemicals, and other sensitive materials safely and efficiently. As reliable cross-border transportation increases and businesses seek cost-effective shipping solutions, the demand for composite IBCs has surged.
Containerization has revolutionized the logistics and supply chain landscape by significantly reducing transportation costs and streamlining the shipping process. Composite IBCs are crucial in this containerization revolution, offering a durable, lightweight, and eco-friendly alternative to traditional packaging options.
As industries prioritize cost-efficient and sustainable shipping practices, the composite IBCs system market continues to evolve and meet the changing needs of global trade and commerce.
Download Sample Report to learn about recent in the Composite IBCs System Market observed by FMI: https://www.futuremarketinsights.com/reports/sample/rep-gb-5296
Major Players:
Grief Inc.
Snyder Industries, Inc.
Hoover Ferguson Group Inc.
Mauser Group B.V.
Composite Containers LLC
Pacific Container Systems
 Key Takeaways:
North America is dominant in the composite IBCs system market, with an estimated 21% share in 2022. The region's strong exports and imports contribute to its rapid development in the market.
Europe is predicted to hold a significant market share of 15% in the composite IBCs system market in 2022. The region's growth is supported by stringent government controls on cross-border commerce and credible improvements in the cosmetics and pharmaceutical packaging sectors.
Asia Pacific is projected to capture a 9% market share in the composite IBCs system market, driven by the expansion of industrial production in countries like China. The region's substantial market for food, chemicals, and personal care products contributes to the increased demand for composite IBCs.
Plastic IBCs are highly preferred, holding around 98% of the market share in 2020. Their recyclability and safety advantages over metal and paperboard IBCs make them the top choice for packaging solutions.
The food & beverage industry remains a highly sought-after segment in the composite IBCs system market, holding over 90% of the market share in 2020. The industry's significant demand in North America and Europe is expected to drive its continued dominance in the forecast period until 2033.
Buy Exclusive Report: https://www.futuremarketinsights.com/checkout/5296  
Market Segmentation:
By Material Type:
Plastics
Aluminum
Carbon Steel
Galvanized Iron
By End Use:
Industrial Chemicals
Paints
Inks & Dyes
Food & Beverage
Building & Construction
Pharmaceuticals
By Technology:
Aseptic Technology
Non-Aseptic Technology
By Capacity:
180 to 250 gallons
250 to 300 gallons
300 to 350 gallons
Above 350 gallons
By Region:
North America
Latin America
Europe
South Asia & Pacific
East Asia
The Middle East & Africa (MEA)
Recent Developments in the Composite IBCs System Market:
In November 2020, Schoeller Allibert, a European manufacturer of recyclable, reusable, and returnable plastic packaging solutions, unveiled ChemiFlow, an UN-approved Intermediate Bulk Container (IBC) intended to carry hazardous and highly corrosive chemicals. This demonstrates the company's dedication to the chemical production and distribution business.
In December 2020, Time Technoplast debuted a new generation of multilayer pipes for power/communication cable ducts with silicone in-lining. The business also created complementary components to offer as a whole bundle. These technologically advanced, innovative items meet international requirements and are employed in high-performance applications. These pipes/ducts are being introduced in the country and have significant commercial potential.
Ready to Learn About Our Approach? Explore Our Methodology: https://www.futuremarketinsights.com/request-report-methodology/rep-gb-5296
About Future Market Insights (FMI)
Future Market Insights, Inc. (ESOMAR certified, recipient of the Stevie Award, and a member of the Greater New York Chamber of Commerce) offers profound insights into the driving factors that are boosting demand in the market. FMI stands as the leading global provider of market intelligence, advisory services, consulting, and events for the Packaging, Food and Beverage, Consumer Technology, Healthcare, Industrial, and Chemicals markets. With a vast team of over 5000 analysts worldwide, FMI provides global, regional, and local expertise on diverse domains and industry trends across more than 110 countries.
Contact Us:        
Future Market Insights Inc.
Christiana Corporate, 200 Continental Drive,
Suite 401, Newark, Delaware – 19713, USA
T: +1-845-579-5705
For Sales Enquiries: sales@futuremarketinsights.com
Website: https://www.futuremarketinsights.com
LinkedIn| Twitter| Blogs | YouTube