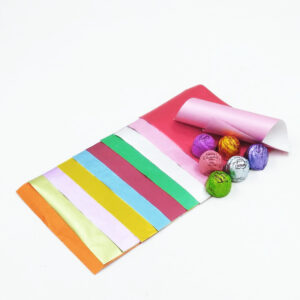 The chocolate wrapping films market is anticipated to thrive at an average CAGR of 4.5% between 2023 and 2033. The market is expected to have a market share of US$ 1,148.6 million by 2033, while it is likely to be valued at US$ 739.65 million in 2023.
Download a sample for highlights on market drivers and challenges affecting the Chocolate Wrapping Films Market: https://www.futuremarketinsights.com/reports/sample/rep-gb-4826
Chocolate Wrapping Films Market Scenario:
Market Growth and Size:
The chocolate wrapping films market was experiencing steady growth due to the continuous demand for chocolate and confectionery products globally.
The market's size and growth were influenced by factors such as rising chocolate consumption, consumer preferences for attractive and protective packaging, and innovations in packaging materials and technology.
Key Market Drivers:
Growing Chocolate Consumption: The consistent popularity of chocolate and confectionery products, along with increasing consumer purchasing power, drove the demand for chocolate wrapping films.
Packaging Advancements: Manufacturers were focusing on improving packaging materials and designs to enhance product presentation, shelf life, and protection against external factors like moisture and light.
Sustainability: There was a noticeable trend towards sustainable packaging materials in response to consumer and regulatory pressures. Biodegradable and eco-friendly films were gaining traction.
Types of Chocolate Wrapping Films:
Various types of films were used for chocolate packaging, including BOPP films, aluminum foil, paper-based films, and biodegradable materials. The choice of film depended on factors like product type, branding, and cost considerations.
Regional Market Trends:
Europe: Europe remained a significant market for chocolate wrapping films due to its strong presence in the chocolate industry. Sustainable and recyclable packaging materials were a key focus in this region.
North America: North America also witnessed a demand for eco-friendly packaging options, with consumers valuing clean labeling and visually appealing designs.
Asia-Pacific: Emerging economies in Asia-Pacific, such as China and India, were experiencing a surge in chocolate consumption, leading to increased demand for innovative and cost-effective packaging solutions.
Competitive Landscape:
The market was competitive, with several established and emerging players offering a range of packaging materials and solutions.
Competition often revolved around factors like cost-effectiveness, sustainability, product differentiation, and the ability to provide custom packaging solutions to meet the specific needs of chocolate manufacturers.
Challenges:
Challenges in the chocolate wrapping films market included rising raw material costs, regulatory requirements related to food safety and packaging materials, and the need for continuous innovation to address changing consumer preferences.
Future Outlook:
The chocolate wrapping films market was expected to continue its growth trajectory, driven by the global chocolate industry's expansion and evolving consumer preferences.
Sustainability and eco-friendly packaging were anticipated to remain significant trends, with an emphasis on reducing environmental impact through the use of recyclable and biodegradable materials.
Innovation in packaging functionality, such as tamper-evident seals and resealable designs, was also expected to play a role in shaping the future of the market.
Buy/Purchase the Report: https://www.futuremarketinsights.com/checkout/4826
Key Takeaways:
The United States market leads the North American chocolate wrapping films market in terms of market share in North America. The United States held a healthy market share in 2022. The factors attributed to the growth are the higher consumption of chocolate bars and the advent of chocolate bar alternatives. New sugar-free and vegan chocolates are expected to flourish in regional growth during the forecast period. North America secured a 21% share of the global market in 2022.
The German chocolate wrapping films market held a healthy market share of 8.3% in 2022. The market growth is caused by higher tourist footfall, new healthy chocolate brands, and government policies around new packaging solutions.
The Indian market thrives at a healthy CAGR  between 2023 and 2033. The growth is attributed to international chocolate brands entering the market, new Indian brands with enhanced wrapping solutions, etc.
The chocolate wrapping films market is segmented into PET, PVC, and BOPP based on type, polyvinyl chloride (PVC) is leading the category.
Based on application type, white, dark, and milk are the key applications in the category.
Competitive Landscape:
The key suppliers focus on environmentally friendly packaging along with thin and durable packaging. The competitors also merge, acquire, and partner with other companies to increase their supply chain and distribution channel.
Recent Market Developments:
–              Multifilm Packaging Corporation has been acquired by Transcontinental Inc., so that it can enhance its high-end confectionery business in North America.
–              Swiss Pack United Kingdom has introduced the perfect packaging solutions for cold seal rolls, especially in chocolate bar packaging.
Market Key Players:
Sysco Industries Limited
Multifilm Packaging Corporation
POLYSACK LTD
VACMET INDIA LIMITED
Uflex Ltd.
Watershed Packaging Ltd
TAGHLEEF INDUSTRIES GROUP
Mondi Group
Aluflexpack novi d.o.o.
Swiss Pack United Kingdom
Varipack AG.
Ester Industries Ltd.
Innovia Films Limited
CLONDALKIN GROUP.
Key Segments Covered:
By Type:
By Application:
Key Regions Covered:
North America
Latin America

Brazil
Mexico
Rest of Latin America

Europe

Germany
United Kingdom
France
Spain
Russia
Rest of Europe

Japan
Asia Pacific Excluding Japan

China
India
Malaysia
Singapore
Australia
Rest of Asia Pacific Excluding Japan (APEJ)

The Middle East and Africa

GCC Countries
Israel
South Africa
Middle East and Africa (MEA)
Request Customization @ https://www.futuremarketinsights.com/customization-available/rep-gb-4826
About Future Market Insights (FMI)
Future Market Insights, Inc. (ESOMAR certified, recipient of the Stevie Award, and a member of the Greater New York Chamber of Commerce) offers profound insights into the driving factors that are boosting demand in the market. FMI stands as the leading global provider of market intelligence, advisory services, consulting, and events for the Packaging, Food and Beverage, Consumer Technology, Healthcare, Industrial, and Chemicals markets. With a vast team of over 5000 analysts worldwide, FMI provides global, regional, and local expertise on diverse domains and industry trends across more than 110 countries.
Contact Us:        
Future Market Insights Inc.
Christiana Corporate, 200 Continental Drive,
Suite 401, Newark, Delaware – 19713, USA
T: +1-845-579-5705
For Sales Enquiries: sales@futuremarketinsights.com
Website: https://www.futuremarketinsights.com
LinkedIn| Twitter| Blogs | YouTube