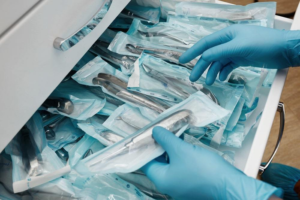 The global Bio-medical Packaging Market is projected to witness substantial growth in the coming decade, with an estimated value of US$ 727.35 million by 2033. This represents a significant increase from the US$ 391.45 million recorded in 2023, showcasing a robust compound annual growth rate (CAGR) of 6.4% over the forecast period.
As health-related concerns and cognizance about the benefits of proper medical packaging increase, the demand for bio-medical packaging is also rising.
Mounting number of people are taking an oath to donate their organs to support those in need. Individuals in developed and developing nations are exhibiting increased interest in blood donations. As a result, bio-medical preservation has surged over the years, leading to heightened demand for bio-medical packaging.
The medical sector is experiencing continued investments, which is fueling the enhancement of this technology. Recently, the demand for active refrigeration and thermostat-equipped boxes has escalated to preserve the specimens and boost their lifespan by ensuring their safety in temperature-controlled kits.
Get the PDF Sample Copy (Including FULL TOC, Graphs, and Tables) of this report: https://www.futuremarketinsights.com/reports/sample/rep-gb-4565
Key Market Players:
Tecnisample SL
Temperature Packaging Solutions
CarePack Holland BV
Cibesmed Bio-Medical Packaging
Exeltainer SL
Custom Pack Inc.
Bio-bottle Ltd.
Bio-Packaging Ltd.
Extra Packaging Corp.
Top Highlights from the FMI's Analysis of the Bio-medical Packaging Market:
Countries in the Asia Pacific, such as China and India, are projected to register stellar CAGRs over the forecast period. This trend implies that the manufacturers of bio-medical packaging are expected to expand their base in the regional market.
Producers are considering Mexico as their destination for future business projects. The Mexican market has not been much explored for packaging purposes; however, as the leading markets reach saturation point, markets with low penetration are being contemplated.
Australia is emerging as a key market among top producers of bio-medical packaging. As a result, manufacturers are coming up with user-friendly packaging designs to gain entry into the market.
Increasing the development of proper packaging in South Korea to prevent medical devices from biological contamination, physical damage, or any external disturbance is expected to foster sales of bio-medical packaging.
Purchase/Buy Now to Uncover Segment-specific Information, Identify Key Trends, Drivers, and Challenges: https://www.futuremarketinsights.com/checkout/4565
Key Segments Profiled in the Bio-Medical Packaging Market Survey:
By Contact with Specimen:
Primary Packaging
Secondary Packaging
By Rigidity of Packaging:
Flexible Packaging
Rigid Packaging
By Product Type:
Bio-bottles
Bio-pouches
Biohazard bags
Infectious Substance Packaging
Temperature Controlled Kits
Waste Bins
Others
By Region:
North America
Latin America
Asia Pacific
Middle East and Africa
Europe
New Events Burgeoning the Market's Progress
Amcor's ULTRA pouches were qualified for vaporized hydrogen peroxide sterilization and steam sterilization at 134°C in April 2020. This implies that the pouches can offer a solution for the sterilization of all reusable medical equipment. The new accreditation ensures that the ULTRA pouches adhere to the latest international and European EN 868 and ISO 11607 standards like the Sterile Barrier System (SBS) requirement.
Wipak Group introduced a new pouch in November 2019, which is particularly developed for packing robotic instruments and other large devices. The pouch ensures that the devices remain sterile during storage and transportation. The product is made of extra-sturdy paper for more protection, resistance against microbial penetration, and high puncture resistance. The pouch also integrates Wipak's applauded Multi – X 9 multilayer film that consists of nine layers, each with its unique features and functions.
Wipak Group introduced a new line of medical packaging solutions in October 2021. These are engineered to cater to the distinct requirements of healthcare and medical products. The new line consists of laminates, pouches, and sterile barrier packaging, among other solutions.
Berry Global introduced an array of medical packaging solutions in August 2021. These solutions are aimed at improving the efficacy and safety of medical products. The new line consists of bags, pouches, and other packaging solutions that comply with regulatory requirements for the medical industry.
In June 2021, DuPont introduced a new Tyvek 40L medical packaging material designed for superior protection of medical devices and products. The new material provides an improved microbial barrier and overall breathability.
For Any Query or Customization: https://www.futuremarketinsights.com/customization-available/rep-gb-4565
About Future Market Insights (FMI)
Future Market Insights, Inc. (ESOMAR certified, recipient of the Stevie Award, and a member of the Greater New York Chamber of Commerce) offers profound insights into the driving factors that are boosting demand in the market. FMI stands as the leading global provider of market intelligence, advisory services, consulting, and events for the Packaging, Food and Beverage, Consumer Technology, Healthcare, Industrial, and Chemicals markets. With a vast team of over 5000 analysts worldwide, FMI provides global, regional, and local expertise on diverse domains and industry trends across more than 110 countries.
Contact Us:        
Future Market Insights Inc.
Christiana Corporate, 200 Continental Drive,
Suite 401, Newark, Delaware – 19713, USA
T: +1-845-579-5705
For Sales Enquiries: sales@futuremarketinsights.com
Website: https://www.futuremarketinsights.com
LinkedIn| Twitter| Blogs | YouTube