The market for devices that detect concealed weapons is expected to grow from US$ 637.8 million in 2022 to US$ 1.17 billion by 2031. The market for hidden weapon detection systems is anticipated to expand at a strong CAGR of 6.9 percent between 2022 and 2031.
| | |
| --- | --- |
| Concealed Weapon Detection Systems Market Size (2022) | US$ 637.8 Mn |
| Sales Forecast (2031) | US$ 1.17 Bn |
| Global Market Growth Rate (2022 to 2031) | 6.9% |
| Share of Top 5 Industry Players | 47% |
There is a critical need for concealed weapon detection systems in the aviation industry, the government sector, and commercial spaces including educational institutions, banks, and shopping centres because anti-social groups pose a threat to public safety. Terahertz body scanners can recognise and precisely locate dangers, such as concealed weapons and contraband, that are concealed in bags or beneath a person's clothing.
A lucrative market for the sale of concealed weapon detection systems has been created thanks to remarkable advancements made possible by the integration of sensors, imaging technologies, and actuators.
Configurable terahertz body scanning systems have been widely used globally due to the urgent need for security screening with concealed weapon detection at ports and borders amid escalating political unrest.
Request a Sample of this Report @ 
https://www.futuremarketinsights.com/reports/sample/rep-gb-11898
The rise of cross-border terrorism and an increasing number of terrorist outfits have given every government a reason to invest in the best and the most advanced concealed weapon detection technologies.
Key Takeaways from Global Concealed Weapon Detection Systems Market Study
Transportation infrastructure to remain the leading segment exhibiting a 2.1x growth during the forecast period
North America to hold a lion's share of 41.8% in global concealed weapon detection systems market
Terahertz body scanners to remain bullish as technological advancements remain unparalleled
Increased product selling prices, amongst established players, to be seen as markets try to recover from COVID-19 pandemic
Integration of High Efficiency Sensing Solutions to Boost Adoption
The urgent need for contemporary, cutting-edge concealed weapon detectors has been brought on by growing terrorist threats that target public places for mass attacks. Without any physical contact between security personnel and the person being screened, security screening in conjunction with solutions for concealed weapons detection are used to find covert threats and illegal items.
High efficiency sensing technologies are required for effective security screening and weapon detection at high public throughput locations like courthouses, airports, museums, and prisons. Companies are being driven to develop and incorporate high speed sensors into security screening solutions by the demand for effective concealed weapon detection.
It is possible to combat illegal activities and terrorism at airports, train stations, metro stations, national borders, and other locations by integrating autonomous and covert sensing resources. During the forecast period, high-quality, autonomous sensing equipment integration is anticipated to significantly contribute to the growth of the global market for concealed weapon detection systems.
Ask An Analyst @
https://www.futuremarketinsights.com/ask-the-analyst/rep-gb-11898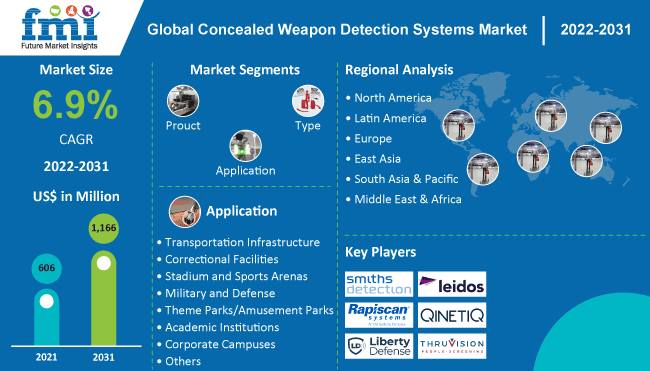 Competition Landscape of Concealed Weapon Detection Market
By deploying concealed weapon detection systems for new end users operating in market sectors that the company does not typically serve, concealed weapon detection system market participants hope to expand their sources of income.
For instance, Smiths Detection Group Ltd. deployed specialised X-ray systems with integrated auto-detection software in August 2019 that automatically detects contraband such as explosives and weapons. At Singapore's HarbourFront Station, the solution was used for a mock emergency preparedness exercise mandated by the Land Transport Authority and involving rail operators.
By acquiring and combining with other significant players in the global security screening technology market, key market players are concentrating on gaining technological expertise and improving their attractiveness in the concealed weapon detection market. Additionally, by using this strategy, the business is able to reduce competition on both a regional and international scale.
Request advisory customization available@
https://www.futuremarketinsights.com/customization-available/rep-gb-11898
Concealed Weapon Detection Systems Industry Survey
Concealed Weapon Detection Systems Market by Product:
Millimeter Wave Body Scanners

Active Millimeter Wave Body Scanners
Passive Millimeter Wave Body Scanners

X-ray Body Scanners

Backscatter X-ray Scanners
Transmission X-ray Scanners

Terahertz Body Scanners
Metal Detectors
Concealed Weapon Detection Systems Market by Type:
Mobile Concealed Weapon Detection Systems
Stationary Concealed Weapon Detection Systems
Concealed Weapon Detection Systems Market by Application:
Transportation Infrastructure
Correctional Facilities
Stadium and Sports Arenas
Military and Defense
Theme Parks/Amusement Parks
Academic Institutions
Corporate Campuses
Others
Concealed Weapon Detection Systems Market by Region:
North America Concealed Weapon Detection Systems Market
Latin America Concealed Weapon Detection Systems Market
Europe Concealed Weapon Detection Systems Market
East Asia Concealed Weapon Detection Systems Market
South Asia & Pacific Concealed Weapon Detection Systems Market
Middle East & Africa Concealed Weapon Detection Systems Market
About FMI             
Future Market Insights (ESOMAR certified market research organization and a member of Greater New York Chamber of Commerce) provides in-depth insights into governing factors elevating the demand in the market. It discloses opportunities that will favor the market growth in various segments on the basis of Source, Application, Sales Channel and End Use over the next 10-years.
Contact:                        
Future Market Insights Inc.
Christiana Corporate, 200 Continental Drive,
Suite 401, Newark, Delaware – 19713, USA
T: +1-845-579-5705
Report: https://www.futuremarketinsights.com/reports/concealed-weapon-detection-systems-market
For Sales Enquiries: sales@futuremarketinsights.com
Browse latest Market Reports: https://www.futuremarketinsights.com/reports
LinkedIn| Twitter| Blogs