The global weather information technology market is set to enjoy a valuation of US$ 4,772.7 Mn in 2022, and further expand at a CAGR of 6.1% to reach US$ 7,216.3 Mn by the year 2029.  New communication networks and forecast systems such as digital database forecasting, nowcasting systems, wireless communication and others are emerging and providing the opportunity to improve Public Weather Services (PWS). Using technology like augmented reality, meteorologists are creating visuals from weather radar and forecasting models, and helping viewers prepare for future storms.
Request a Sample of this Report @ https://www.futuremarketinsights.com/reports/sample/rep-gb-1002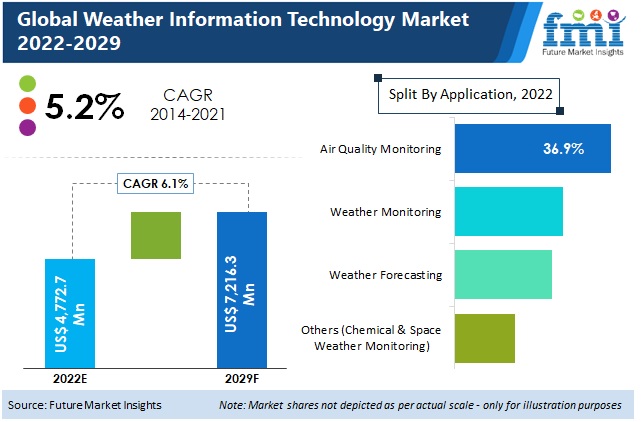 Key Takeaways – Weather Information Technology Market Study
Demand from aviation industry would witness a high growth rate, owing to rising adoption of weather information technology in military & defense sectors.
Market share held by air quality monitoring is projected to increase at a striking CAGR during the forecast period, due to increasing focus to monitor and control levels of air pollution.
North America is anticipated to dominate the weather information technology market due to increasing application of supercomputing for weather forecast in the region.
Management of climate and weather information technology can help better-informed policy for community and institutions that decrease related risks and offer efficient use of limited resources, livestock, improve fishery production, and increase the crop yield.
Weather information through mobile apps and websites, and promotion of commercial applications such as hyper-local forecast, stunning weather virtualization, and smart notification in APEJ are creating opportunities for global players.
Increasing Environmental Observations and Monitoring of Weather Information Technology Boost the Market Growth
Various technological trends that are changing all areas of the market are fueling advances in weather prediction. Advances in modeling and forecasting, cloud, big data and analytics, smart devices, and mobile computing are fueling innovations in service delivery.
Rapid growth in personal weather stations and smart connected devices has increased the data available for weather observation and monitoring and may have the potential to improve the accuracy of hyperlocal weather forecasts. Hence, the adoption of monitoring and environment observations is driving the growth of the weather information technology market.
For instance, in March 2021, the Lockheed martin Corporation successfully launched GOES-17 Satellite to provide broad coverage with powerful new weather monitoring technology for meteorologists. This satellite will continue to produce dazzling weather data that has captivated forecast.
Ask An Analyst @ https://www.futuremarketinsights.com/ask-the-analyst/rep-gb-1002
More Valuable Insights on Weather Information Technology Market
FMI's report on the weather information technology market is segmented into six major sections such as solutions (systems, and services), applications (air quality monitoring, weather monitoring, weather forecasting, and others (chemical & space weather monitoring)), industry (utilities, agriculture, military & defense, transportation, marine, aviation, and others(mining, energy utilities, chemicals)), and region to help readers understand and lucrative evaluate opportunities in the weather information technology market.
Related Reports – 
https://medium.com/@rv9286745/endpoint-protection-platforms-epp-market-is-predicted-to-reach-us-7-82-bn-by-the-2030-d3db03e393ed
https://www.reddit.com/user/tanmayb4733/comments/u10bmp/endpoint_protection_platforms_epp_market_2022/
https://tanmayb.livejournal.com/3004.html
https://flipboard.com/@rahulverma3fha/global-endpoint-protection-platforms-epp-market-2022-growth-covid-impact-tre-hal23jafy
https://www.notion.so/Endpoint-Protection-Platforms-EPP-Market-Size-Share-Trends-Industry-Analysis-Research-Methodo-1071e975ea2b4592aa5eccf6e762071e
Contact Us:
Future Market Insights
Unit No: 1602-006
Jumeirah Bay 2
Plot No: JLT-PH2-X2A
Jumeirah Lakes Towers
Dubai
United Arab Emirates
LinkedIn| Twitter| Blogs