VALLEY COTTAGE, N.Y. – The worldwide market for aircraft ground support equipment is majorly fueled by rising passenger traffic, particularly in developing nations of Asia Pacific. Rapid technological advancements and the rise of electrification era along with strong demand for high performance equipment which requires minimal labor work are expected to boost the sales of aircraft ground support equipment. Increment in cargo shipments as a result of a just-in-time strategy is projected to further propel growth of the aircraft ground support equipment market.
Functional and Operational Advantages to Offer Tailwinds to Market Growth
Customers tend to look forward to operational efficiency, particularly in passenger aircraft, thereby potentially leading to increased ground handling services. A large portion of these ground services are not related with the actual aircraft journey. To limit the turnaround time, accuracy, efficiency, and speed are significant aspects of ground handling services. Aircraft ground support equipment helps in accomplishing operational tasks with accuracy and efficiency. Owing to these operational benefits, these equipment remains highly preferred at airports worldwide.
Request a Sample Report with Table of Contents and Figureshttps://www.futuremarketinsights.com/reports/sample/rep-gb-2854
Additional functions of aircraft ground support equipment such as aircraft refueling, cargo loading, and unloading, fuselage, potable water storage, and engine examination are opening a wide window of opportunities for market players.
Renting the equipment lets industry operators take on assets with minimum initial spending as well as makes it simpler for the end user to remain within budgetary restraints. This additionally directs towards low maintenance costs, budgeting with more flexible terms and substantial benefits, in addition to zero risks of obsolescence.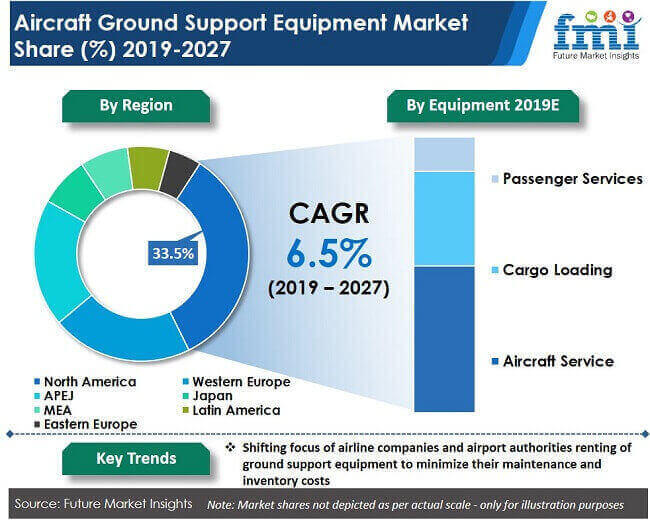 Gains Upheld by Strong Regional Economic Developments
The figure for air traveling passengers is rising every day all over the globe, with a foundation of over 700 routes for predominant connectivity. The Asia Pacific traveler traffic, as indicated by the International Air Transport Association, rose by 7.3% during the year 2018. Strong regional economic developments with novel routes alternatives for passengers have boosted the need for airplanes in the regional market. Such an expansion makes a novel challenge for the government to give appropriate infrastructure, equipment, and technology that could suit the development and guarantee that guidelines and duties don't transform up into limiting aspects. This movement in passenger traffic would likewise drive the development of the market.
We offer tailor-made solutions to fit your requirements, request customization@https://www.futuremarketinsights.com/customization-available/rep-gb-2854
Manufacturers Prioritize Efficiency and Reduction of Operational Time Lag
The worldwide market has seen a substantial share of its development from the extension of the airline and airport industry. Prerequisite of high improvement and proficiency characterize the high performance of the equipment. The higher pace of development of air traffic with a generally low pace of extension of air terminals as well as the construction of new ones prompts a decline in the hour of service per flight. To do as such, hardware which is recently utilized are being supplanted by new and increasingly effective ones. Any bottleneck in the line of the procedure will defer other flights in line as well as raise the operational expense also. Additionally, the tendency towards utilization of support equipment is projected to expand as a result of its adequacy to decrease time lag.
Media Source@ https://www.futuremarketinsights.com/press-release/aircraft-ground-support-equipment-market
About Us
Future Market Insights (FMI) is a leading market intelligence and consulting firm. We deliver syndicated research reports, custom research reports and consulting services which are personalized in nature. FMI delivers a complete packaged solution, which combines current market intelligence, statistical anecdotes, technology inputs, valuable growth insights and an aerial view of the competitive framework and future market trends.
Contact Us
Mr. Abhishek Budholiya
Future Market Insights
616 Corporate Way, Suite 2-9018,
Valley Cottage, NY 10989,
United States
T: +1-347-918-3531
F: +1-845-579-5705
T (UK): + 44-(0)-20-7692-8790 
Sales:sales@futuremarketinsights.com
Press Office: Press@futuremarketinsights.com
Website:  https://www.futuremarketinsights.com/