Witnessing a promising CAGR during 2019 – 2029, the global sales of turbidimeter will reach US$ 100 Mn mark by 2029. A new Future Market Insights (FMI) study projects that turbidimeter sales will continue to soar in line with the stringent implementation of regulations pertaining to water quality in industries. Quality maintenance is becoming a priority for various sectors that use analytical testing equipment, and turbidimeters are one of the preliminary equipment utilized for quality analysis. This would remain among the key factors pushing sales of turbidimeter at a global level.
Customers would be inclined towards online turbidimeters in the near future, as they are accurate, quicker, and thus, highly reliable. Moreover, online turbidity monitoring is possible for continuous flow systems with a high measuring range of up to 10,000 NTU.
Download the sample copy of Report with table of contents and Figures @https://www.futuremarketinsights.com/reports/sample/rep-gb-8212
To regulate the level of turbidity in water, it is necessary to record live readings of turbidity levels, especially in facilities such as water treatment plants. Given the criticality of highly accurate results in such settings, manufacturers are striving to further develop online turbidity sensors, which are capable of delivering faster and accurate results.
Key Takeaways – Turbidimeter Market Study
Turbidity level of potable water has become a serious concern owing to contamination caused by toxic industrial waste and other pollutants. Strict measures are being taken for regulating turbidity levels of water.
Various water treatment and effluent treatment plants (ETP) have been established in order to regulate turbidity and other parameters, which will fuel the growth of market.
Increasing number of desalination plants in the Middle Eastern region is amplifying demand for turbidimeters.
Handheld turbidimeters are gaining traction owing to their compact size and application in time-critical measurements. However, highly accurate analysis is still majorly conducted by benchtop turbidimeters, as they have a wider measurment range.
Currently, sales of benchtop turbidimeters are relatively high in South Asia, because of more popularity of laboratory analysis in various industries.
Prices of benchtop and handheld turbidimeters are comparatively low in East Asia than other regions, owing to the prominent presence of local manufacturers.
Manufacturers are increasingly selling their products online to capitalize on features such as user-friendly interface, easy selection criteria, and price comparison.
Buy this report @ https://www.futuremarketinsights.com/checkout/8212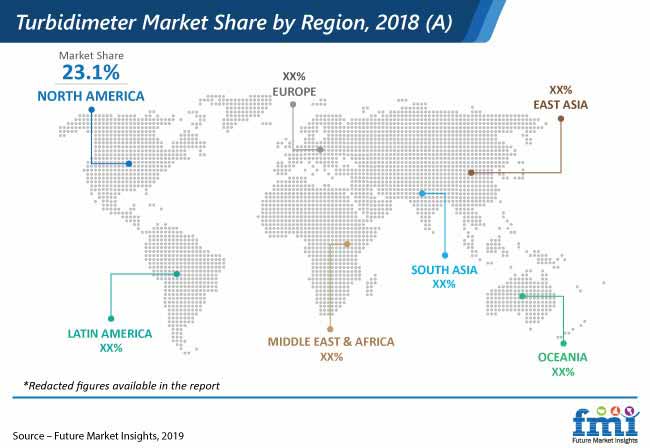 Key Companies Hold 30% Market Share
Turbidimeter market is highly fragmented, as large number of players are offering products for diverse applications. Key manufacturers such as Hach, Emerson Electric Co., Thermo Fisher Scientific, WTW (Xylem Inc.), and Merck KGaA, account for about 30% of the overall market share. In the current scenario, North America and Europe are anticipated to account for a significant share of the global turbidimeter market owing to implementation of stringent regulations to maintain turbidity levels in water. For instance, in the U.S., public drinking water that uses direct filtration for turbidity control cannot exceed 1.0 NTU.
More About the Report
The research report analyzes total sales of turbidimeters on the basis of volume (units) and value (US$ Mn). The report includes a competition analysis section that includes market structure analysis, tier structure analysis, competition development, and other crucial information about global and regional players in the market. Moreover, the market is projected on the basis of factors such as chemical industry growth, pharmaceutical sales, end-use industry overview, desalination and water treatment plants, and water quality regulations in different countries.

About Us
Future Market Insights (FMI) is a leading market intelligence and consulting firm. We deliver syndicated research reports, custom research reports and consulting services which are personalized in nature. FMI delivers a complete packaged solution, which combines current market intelligence, statistical anecdotes, technology inputs, valuable growth insights and an aerial view of the competitive framework and future market trends.
Contact Us
Mr. Abhishek Budholiya
Future Market Insights
616 Corporate Way, Suite 2-9018,
Valley Cottage, NY 10989,
United States
T: +1-347-918-3531
F: +1-845-579-5705
T (UK): + 44-(0)-20-7692-8790
Sales: sales@futuremarketinsights.com
Press Office: Press@futuremarketinsights.com
Website: https://www.futuremarketinsights.com/
Press Release Source: https://www.futuremarketinsights.com/press-release/turbidimeter-market