VALLEY COTTAGE, N.Y. – Potato protein has high dietary benefits, which helps in controlling blood sugar and improving digestive health. Growing awareness of these benefits among consumers and a gradual shift away from meat products are augmenting the demand for potato protein. Moreover, increasing application scope in the food & beverage industry will boost the potato protein market in the future. Potato protein is progressively utilized in food supplements, dairy products, infant formula, and others. This aspect coupled with increasing demand for food with high nutritional benefits in Brazil, India, and China will support development prospects of the market.
The potato protein market is expected to profit from expanding consumer interest in healthy food. Potato protein concentrates, as compared to other products, are seeing high demand, as they have low fat, cholesterol, and lactose and a high measure of proteins. However, lack of awareness of such products, especially in low-income countries is likely to slow down the market development to a degree.
Request a Sample Report with Table of Contents and Figures:https://www.futuremarketinsights.com/reports/sample/rep-gb-11052
The food & beverage sector continues to account for higher demand for potato protein. Increasing utilization of potato protein in milk protein isolates & concentrates, ready-to-drink beverages, frozen foods, dry-mix beverages, fermented foods, and non-dairy vegan foods will continue to boost the market development.
Increased Demand for Plant-based Protein Influence Growth Prospects
On account of growing consumer interest in plant-based protein amid mounting concerns of animal welfare issues in F&B industry, the market for potato protein is expected to witness significant growth. Consumers today get attracted to products that provide medicinal advantages without compromising the taste. Additionally, there is an increasing inclination towards plant-based products. Concerns regarding animal rights and cruelty are one of the main drivers of this trend. Therefore, increasing need for meat-free proteins would clear roads for the development of the potato protein market.
Expanding Application in Food & Beverages Industry to Fuel Growth
Potato protein is broadly utilized in dairy products, food supplements, and infant formulas. As nations such as Brazil, India, and China display high nourishment demand, growth prospect of the potato protein market is expected to be high in these countries. Moreover, growing health consciousness will work to advantage of market players.
We offer tailor-made solutions to fit your requirements, request customization@https://www.futuremarketinsights.com/customization-available/rep-gb-11052
In order to set their products apart from the competition, potato protein manufacturers are concentrating on extending their product portfolio and enhancing sourcing processes. Strategic collaborations with local players across the developing markets also remain a key focus area.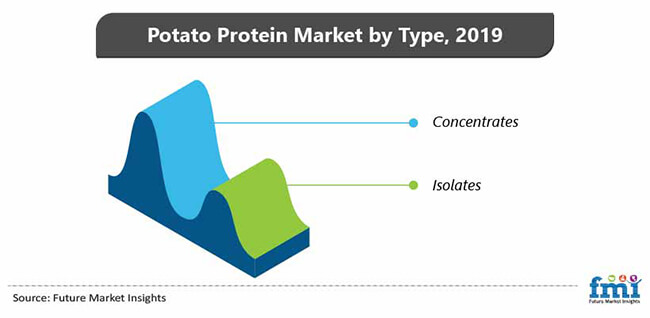 Additionally, mergers and acquisitions stay a well-known methodology among market participants. Organizations plan to grow their territorial impression through strategic collaborations. As the trend of vegan lifestyle goes beyond the affluent consumers, market players are focusing on strengthening their marketing strategies through social media. Increasing need for healthier meat options and a tendency towards plant-based protein is expected to push growth trajectory of the potato protein in regions such as Latin America and Middle East & Africa, in addition to Europe, and North America
More Info@https://www.futuremarketinsights.com/press-release/potato-protein-market
About Us
Future Market Insights (FMI) is a leading market intelligence and consulting firm. We deliver syndicated research reports, custom research reports and consulting services which are personalized in nature. FMI delivers a complete packaged solution, which combines current market intelligence, statistical anecdotes, technology inputs, valuable growth insights and an aerial view of the competitive framework and future market trends.
Contact Us
Mr. Abhishek Budholiya
Future Market Insights
616 Corporate Way, Suite 2-9018,
Valley Cottage, NY 10989,
United States
T: +1-347-918-3531
F: +1-845-579-5705
T (UK): + 44-(0)-20-7692-8790 
Sales:sales@futuremarketinsights.com
Press Office: Press@futuremarketinsights.com
Website:  https://www.futuremarketinsights.com/